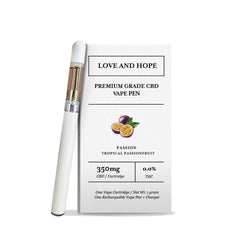 Love and Hope
CBD Vape Kit Tropical Passionfruit
Did you know that a little unassuming fruit from overseas is capable of boosting heart health, lowering insulin levels, reducing anxiety, and protecting immune systems? Phew! Just for you, we've taken the tropical passionfruit and poured all of its health benefits into our CBD solution! Enjoying the benefits of CBD is as simple as breathing in. Our discreet rechargeable vape pen delivers fast-acting, and highly bioavailable broad spectrum atomized CBD oil and a hint of flavor with every breath.
Tropical Passion Fruit
350mg 

Cartridge + Rechargeable Pen + Charger
Benefits:

Manufactured in USA
Premium Grade
THC-Free
Lab Tested
Ingredients:
Phytocannabinoid-Rich Hemp Extract, Organic MCT Coconut Oil and Natural and Artificial Flavor Terpenes .