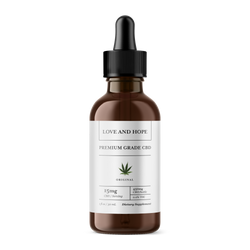 Love and Hope
CBD Oil Tinctures Original
Our house favorite – the one and only – The Original. Our original CBD Oil Tinctures is a no-fuss, no-worry solution that gives you exactly what you need precisely when you need it. There's no flavorful frills or aromatic notes – just plain, powerful, and reliable CBD. Each drop contains our THC-free certified organic hemp CBD oil. They're simple and safe, take day or night for your ideal serving of CBD.  Apply directly onto affected area on your skin or swallow. Love and Hope CBD oil products are activated with special technology method that can be highly absorbed by the body.  Please experience the highly absorbable CBD oil difference and potency and the quality of this oil. 
All tincture bottles are 1oz (30ml).  
Our tinctures do not contain alcohol.
Manufactured in USA
Premium Grade, Certified Organic
THC Free, 0% THC
Lab Tested
CBD specially activated for high-absorption  
Ingredients:
Organic MCT Oil and High potency activated hemp CBD Extract.